Burins
DESCRIPTION: Rare Double Ended Burin
This artifact is a rare and unusual double ended burin on a nice blue-gray flint flake with interlaced white bedding. This piece has at least four burin blows. It measures 55mm by 22mm. This stone artifact was found just off the shore of the island of Funen, Denmark. This was the site of an ancient stone age settlement called "Mejloe", which is now covered by the Baltic sea. The settlement dates to the Ertebölle Culture: 5,400 to 3,900 B.C. The artifact was recovered by divers in up to 20 feet of water, which gives it a interesting and beautiful patina. It still has some undersea growth attached to this piece.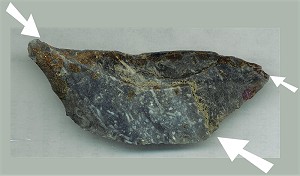 Click on picture for greater detail.
PRICE: $ 58.00 ITEM NO: DMB-3
Each artifact is unique and no two pieces are quite the same, similar to snowflakes. So once an item is purchased, there usually is not another artifact to replace it.

---
Contact us at: StoneAgeArtifacts@gmail.com


The contents of this site under Copyright © 2001-2020
Stone Age Artifacts Gallery, All Rights Reserved
Stoneageartifacts.com

Our web page does not automatically collect specific information about visitors.
Aggregate and summary statistics are collected only as a
measure of our web site's effectiveness.